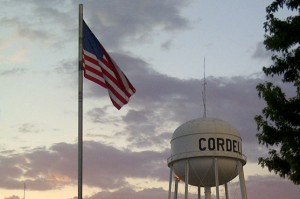 Cordell, OK is the county seat of Washita County and the hub of influence for this county of 11,600 souls. The 4th & College Church of Christ in Cordell has made it its mission to reach all of Cordell and the surrounding communities in their county with the truth and grace of Jesus Christ. Already the Holy Spirit is working through their faith as they have begun to witness a number of people turning to Christ in the past 24 months. Additionally, they have seen a marked increase in the number of children and youth involved with the congregation. There is a spirit of anticipation as God continues to stretch their faith and reliance on His provision and guidance.
By starting with their congregation in Cordell, it is their vision and prayer to help build a strong presence of  the Kingdom in the smaller surrounding communities  in the county.  To help them realize this vision they are currently seeking 4-6 mature disciples (single and/or couples) who will move to Cordell or the surrounding area and serve alongside the congregation as vocational missionaries.  This would involve:
a 3-5 year  commitment
obtaining employment in the area so as to be self-supporting
having a passion and spiritual maturity for missions in a rural setting
Local industries include the health and medical field, oil and gas industry, education, social work, and law enforcement.  There are also opportunities for business entrepreneurs.  If you are interested in this mission opportunity or know someone who would be, please contact us at: raministries@live.com or call 405.615.8792 for more information.  We look forward to hearing from you!